Verifone VX 520

The VX 520 is a reliable, rugged countertop device that's built to last. It handles encryption, decryption and processing at lightning speeds thanks to its powerful processor and expandable memory. 
A full range of connectivity options, from dial and Ethernet to GPRS, with an optional battery allows the VX 520 to go wherever you go. A uniquely designed communication port area underneath the device keeps countertops neat and free of clutter.
---
First Data FD 130 
EMV chip technology has arrived. Is your POS terminal ready? The FD130 Terminal allows you to accept payments quickly and gets you ready for the latest in EMV chip-enabled payment devices. The FD130 Terminal from First Data is an affordable solution that combines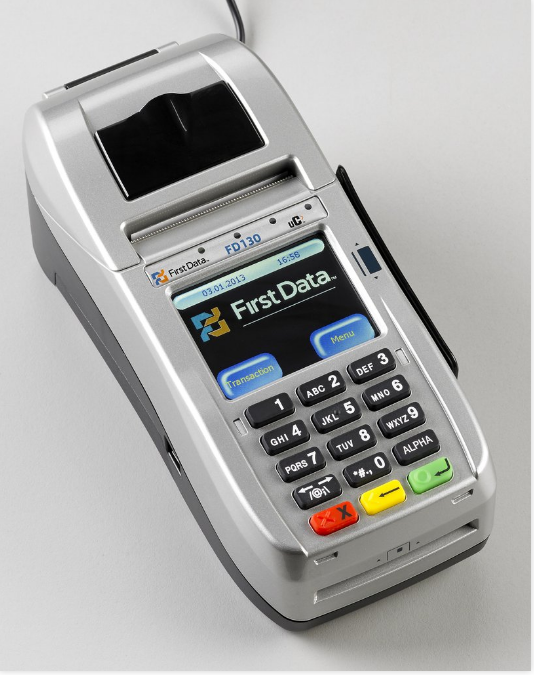 performance, reliability and ease of use in compact, feature-rich devices. The best part is the FD130 Terminal is ready for EMV technology, the new industry standard in security. The FD130 uses cuttingedge technology to enable you to accept transactions when a customer presents you with an EMV card; a card embedded with a special chip that adds an important layer of security. In addition to the added security, the FD130 Terminal gives you full range of solutions for payment processing, including credit, debit, gift cards, personal paper checks and EBT.
---
---
First Data FD35

This comprehensive device accepts PIN and signature debit cards, all major credit cards, gift and EBT cards, and STAR® Network transactions. Customers can insert their chip card into the EMV card reader, tap their contactless card, or swipe a traditional card through the magnetic card reader – all without relinquishing control of their card.
---
---
---
DejaVoo V8- Dual Comm

The Dejavoo Countertop Dual Comm V8 with its Ethernet and Dial option deliver a powerful punch without sacrificing security. These payment solutions include multiple applications, built in PCI Secure PIN Pad, built in EMV Smart Card reader, large back lit display and prove software that is "a la cart" loaded with added value services, offered by Resellers and requested by Merchants. WIth 32 MB of internal memory, and transaction speeds as fast as 3 seconds, the V8 Dual Comm Dial solutions are among the top in their class.